MS400P MBES Multibeam Echosounder
Ruggedized for Harsh Environment | Low Power Consumpation | Easy Operation for One Person
MS400P is new generation of multi beam echo sounder that fully reflects the developing trend of the industry. It has advanced concepts and excellent performance, such as small and compact, light weight, low power consumption. Its installation is quick and convenient. MS400P has powerful function and great accuracy, which fully meets the IHO standard. MS400P is designed as easy operation. Even only one person can work freely!
Description
Main
Features
# Titanium Housing:Waterproof and Anti-Corrosion
# High performance:Beam Width 1° x 2° | Number of Beams 512 | Resolution 0.75cm | IHO Standard
# Low Power Consumption:60W | Working for 8 hours with an ordinary electric motorcycle lithium battery
# Small Size:200mm x 145mm x 75.5mm | Smaller than A4 paper | Being easily packed in Carrying Case
# Light Weight:Total system is weight around 10.3kg(Tansducer 8.3kg / Deck Unit 2kg)
# Integration:Built-in Sound Velocity Sensor and easy to connect with external Inertial Navigation System
# Wide Applycaions including channel survey, underwater terrain survey, water & land 3D survey, bridge pier scouring inspection etc.
In order to improve the system integrating performance, MS400P has built-in sensor, such as sound velocity sensor (As shown in figure below). User does not need pay more cost in purchase it in extra. Furthermore, this way also enhances the surveying accuracy.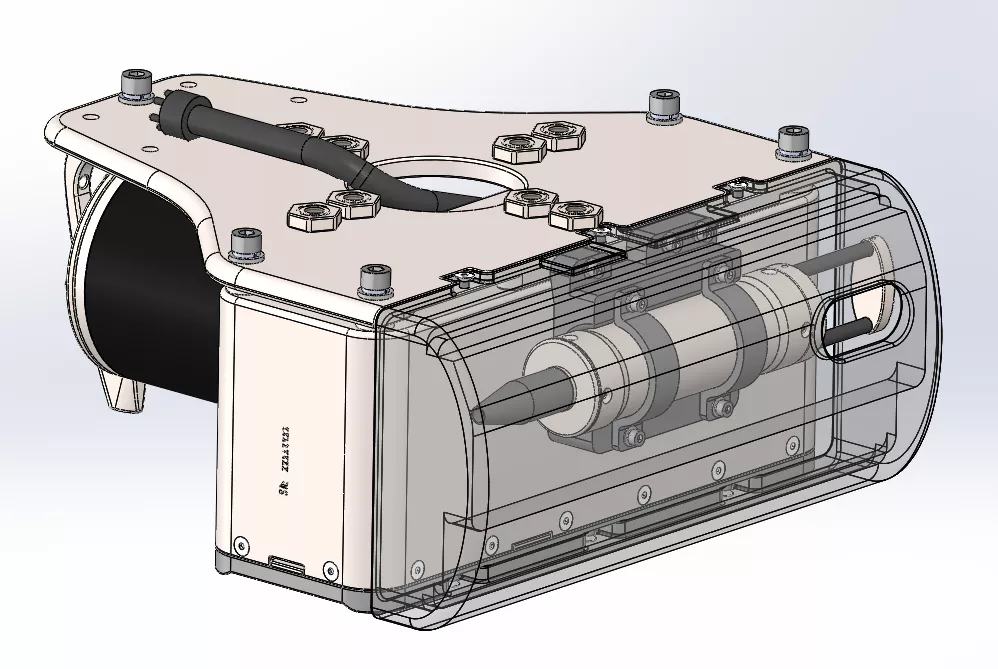 Our MS400P has traveled to many places in China, now it is going to visit other countries. Are you ready to see it?
Do you have questions about this product?
Questions about price, availability, and/or retailers
Questions about technical specifications and usage
Questions about suitability for your project or application
Specifications
Physical properties of transducer head

Max. power consumption [W]

Transducer Head Weight, appr. including peripherals
Speed of sound

Real-time correction of refraction at transducer head

Real-time integration of SV-profile

Explanation of SV-profile application process

Through acquistion software
Interfaces

Many industry software support XTF data formats

Motion; Heading; SVS; SVP; GNSS

Real-time access procedure

Online Software; Gigabit Ethernet
Motion compensation

Motion sensors compatible to the system

Supports multiple industry standard sensors
Mounting and deployment
Used Sonar Methods

Portable high resolution multibeam echosounder

EquiAngular or EquiDistant
System Parameters

Number of selectable frequencies

Max. swath as a function of depth

Min. beam width across track [deg]

Min. beam width along track [deg]
Bottom Coverage

Equi-angular/equi-distant mode

Max. number of points per ping for side scan operation
Uncertainty
More information

Near Field Focus, built-in INS & SVS
General
Documents
Brochure
hydro-tech-ms400p-leaflet.pdf
1.43 MB