Ocean research, exploration, and adventure are all made easily accessible by our flagship product, the BlueROV2 underwater ROV. It provides the capabilities of a high-end commercial mini- ROV at the price of the most basic commercial ROVs, making the BlueROV2 the world's most affordable inspection and research-class subsea vehicle.
The smooth, stable, and highly maneuverable ROV is comprised of six powerful underwater thrusters, a rugged frame, and quick- swappable batteries. Powerful but dimmable subsea LED lights provide excellent illumination for the live HD video feed.
Like all Blue Robotics products, we created the BlueROV2 with high-quality parts, meticulous design, and rugged reliability with proven success in the field.
The BlueROV2 is the world's most affordable high-performance underwater ROV. With six- and eight-thruster configurations, a number of available accessories, and open source software, it has an unprecedented level of performance, flexibility, and expandability. With several thousand units out in the field, the BlueROV2 is one of the most popular underwater drones on the market!
The BlueROV2 comes partially assembled and requires 6-8 hours of user assembly to complete. During the assembly process, you learn how all of the components of the system work and fit together and it leaves you with the knowledge needed to make upgrades and improvements in the future!
Live HD Camera and Lighting
At the front of the ROV is a high definition (1080p, 30fps) wide-angle low-light camera optimized for use on the ROV. It's mounted to a tilt mechanism so that the pilot can control the camera tilt to look up or down, even when the ROV is level.
The ROV can be configured with two or four dimmable Lumen Lights, providing up to 6,000 lumens to illuminate the ocean depths.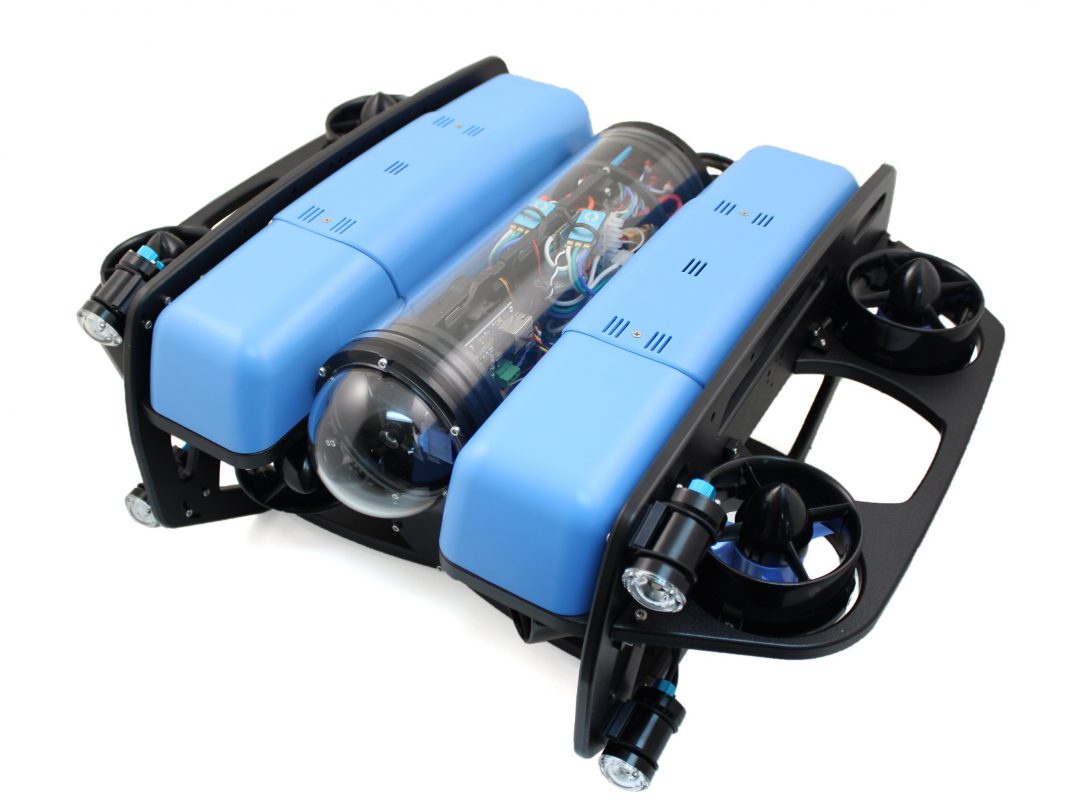 Vectored Thruster Configuration and the Heavy Configuration
The ROV uses the patented T200 Thrusters in a vectored configuration, providing a high thrust-to-weight ratio and the ability to move precisely in any direction. The ROV comes with six thrusters but is expandable to eight thrusters with the Heavy Configuration Retrofit Kit, providing full six-degree-of-freedom control and feedback stability.
Adjustable gain levels allow the pilot to have precision control at extremely low speeds as well as high power to overcome currents and carry heavy loads.
Depth Rating up to 300 meters
The BlueROV2 can be configured with either acrylic plastic or anodized aluminium enclosures. The acrylic enclosures are rated to a depth of 100 meters (330 ft) and the aluminium aluminium are rated to a depth of 300 meters (985 ft). The ROV is constructed from high-quality, well-proven components like our Locking Watertight Enclosures and WetLink Penetrator and it comes with a vacuum test pump to verify a proper seal before each dive.
Modular Frame Design and Expandability
Designed like a working class or research class ROV, the BlueROV2 has an open frame that carries the electronics and battery enclosures, thrusters, buoyancy foam, and ballast weights. This simple design is robust and expandable, making it easy to attach accessories such as an ROV gripper or scanning sonar. We have a payload skid available that extends the frame further and allows you to attach much larger payloads. We've seen people use this for scientific instruments, pressure washer attachments, additional battery enclosures, and more.
The BlueROV2 is designed to be expanded and modified and many of our users have made significant modifications to suit their particular applications. Replacing the standard frame with a custom frame, you can create just about any underwater robot you can imagine!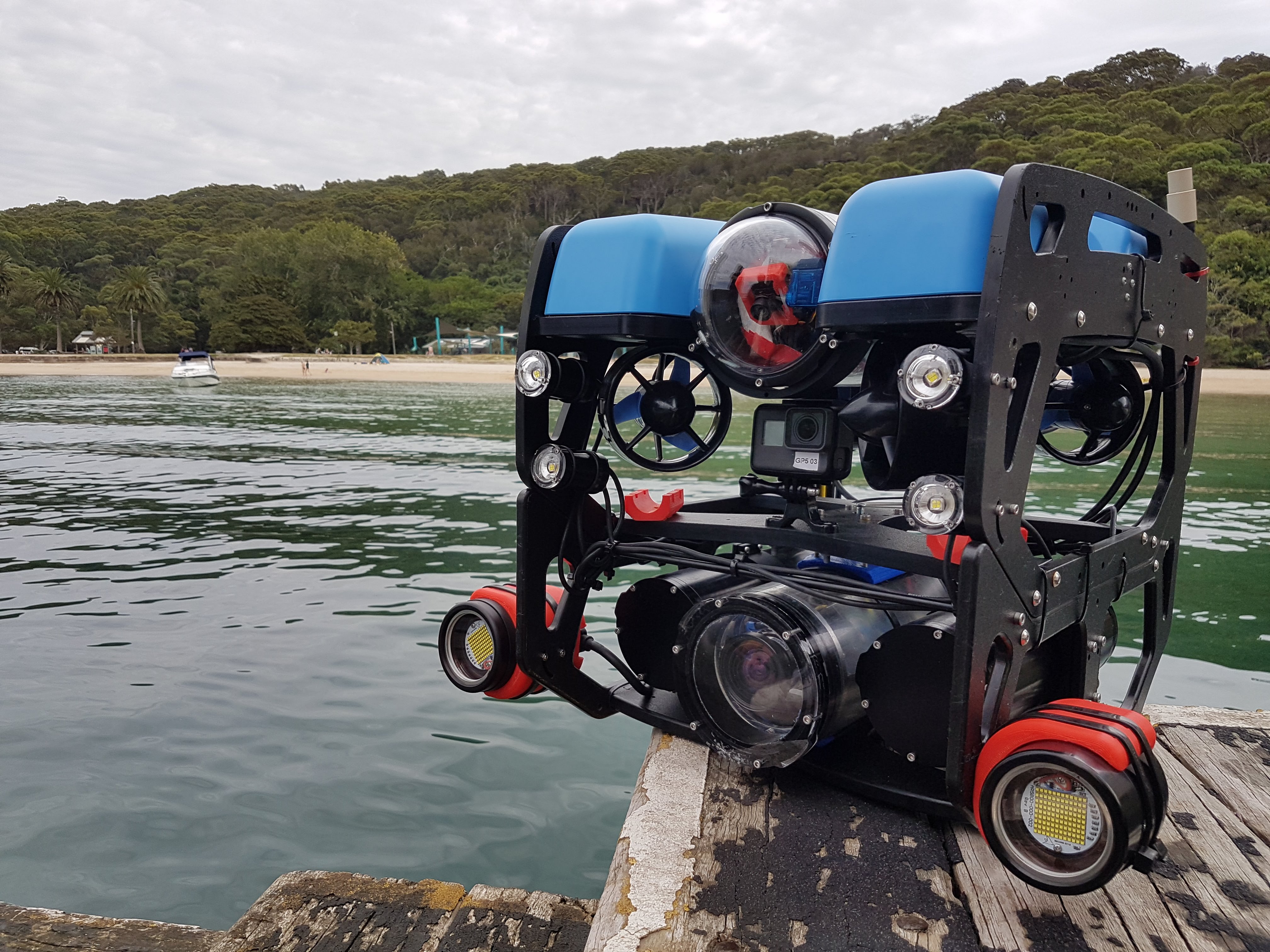 Photo credit: Abyss Solutions
Powered by the Navigator and BlueOS
The BlueROV2 is controlled by the Navigator Flight Controller and BlueOS. The Navigator is a purpose-built controller for ROVs and other robotic applications that has onboard sensors including an inertial measurement unit (IMU) and magnetometer to measure orientation and compass heading and a leak sensor to alert you of any water ingress. It has 16 outputs that can be connected to thrusters, lights, grippers, and other accessories as well as a number of serial and I2C communication ports to communicate with sensors and sonars. It has plenty of room for expandability!
The Navigator is coupled with a Raspberry Pi 4 computer, which handles all of the processing and computing requirements within the ROV. It runs our open-source BlueOS software that provides the tools and features necessary to operate and expand the vehicle. BlueOS runs the ArduSub vehicle control software, manages the camera and tether connection, and makes it easy to update the software to add new features. BlueOS is a growing project and will continue to provide new features to all BlueROV2s.
At the surface, the pilot controls the ROV through a laptop computer and gamepad controller. The open-source QGroundControl application acts as the user interface, providing the live video stream, sensor feedback and information, and the ability to change settings and configuration.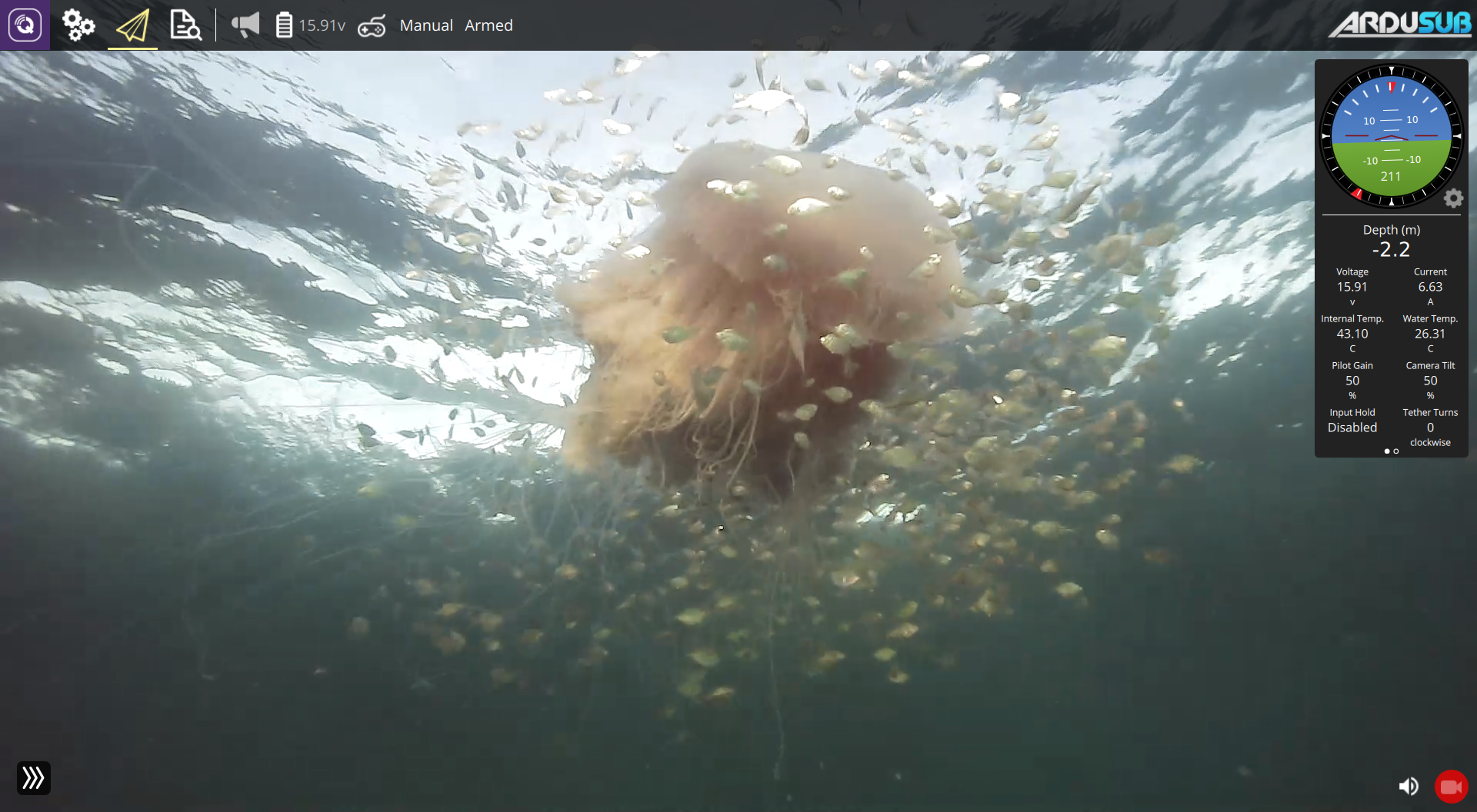 Getting Started with the BlueROV2
The BlueROV2 is designed for both entry-level and advanced ROV users. It comes with everything you need to get in the water except for a few components:
Laptop – We recommend a medium to high-end model with Windows 10, Mac, or Linux operating systems. There are also some compatible tablets including the Windows Surface tablets. iOS and Android are not officially supported at this time.
Gamepad Controller – We recommend the Xbox One controller or the Logitech F310 or F710 controllers.
Battery – We recommend our 14.8v, 15.6Ah lithium-ion battery for the best battery life, but we can't ship it to all locations! There are a number of other compatible batteries that can be used as well. We'd recommend getting a few for extended operation.
Battery Charger – We have a recommended charger as well, but any lithium-ion battery charger that can handle your battery will work!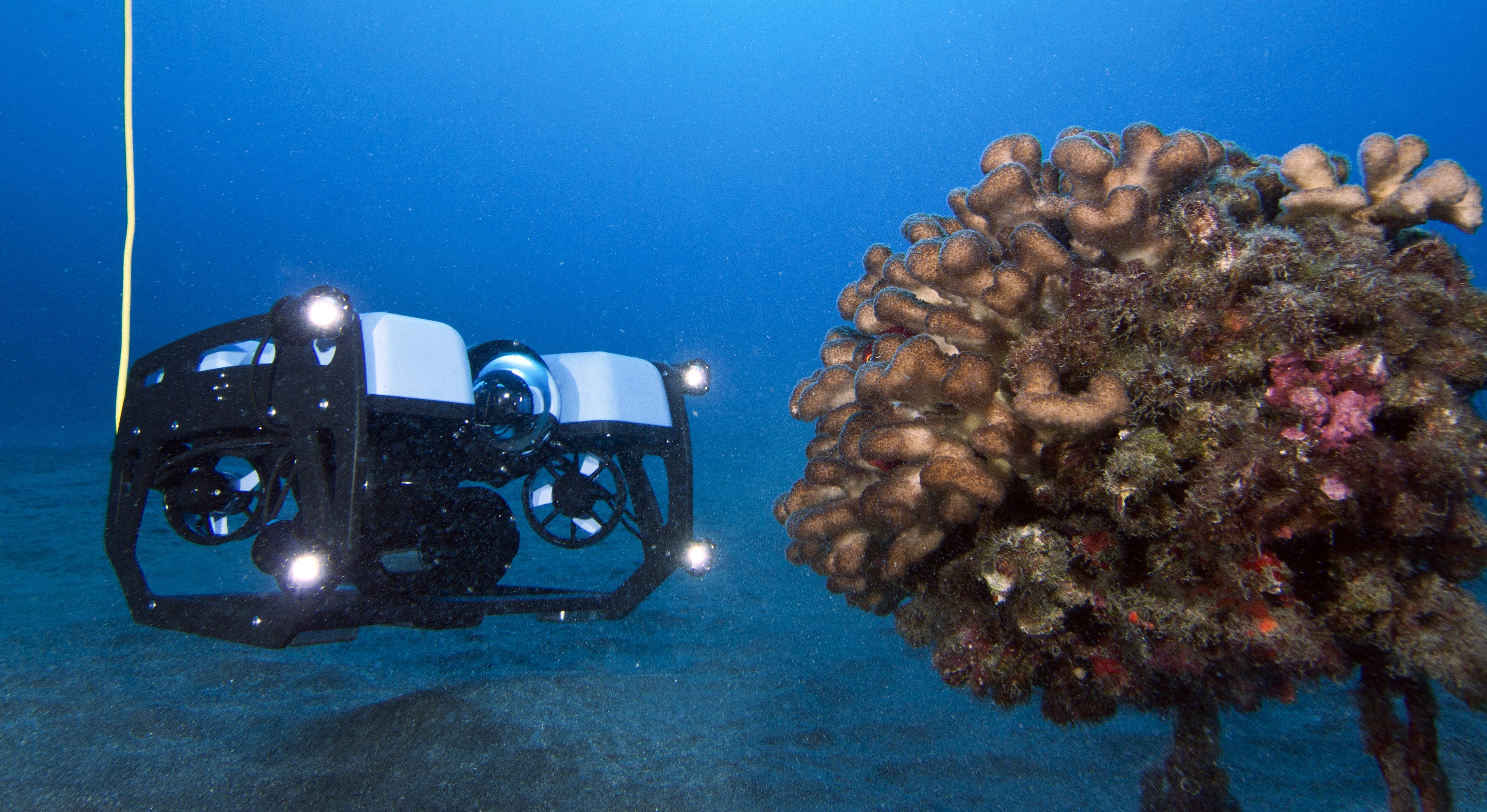 Photo credit: Jeff Milisen
Available Options, Add-ons, and Accessories
First of all, there are a few configurable options that you'll have to choose:
The Fathom Tether length can be selected from 25 meters all the way up to 300 meters. The length you choose depends on how deep and how far you want to go. For lengths over 100 meters, we'd recommend the Fathom Spool to make it easier to manage.
The lights are available in 2-light and 4-light configurations. If you plan to do a lot of work in poor lighting conditions or at night, we recommend the 4-light configuration.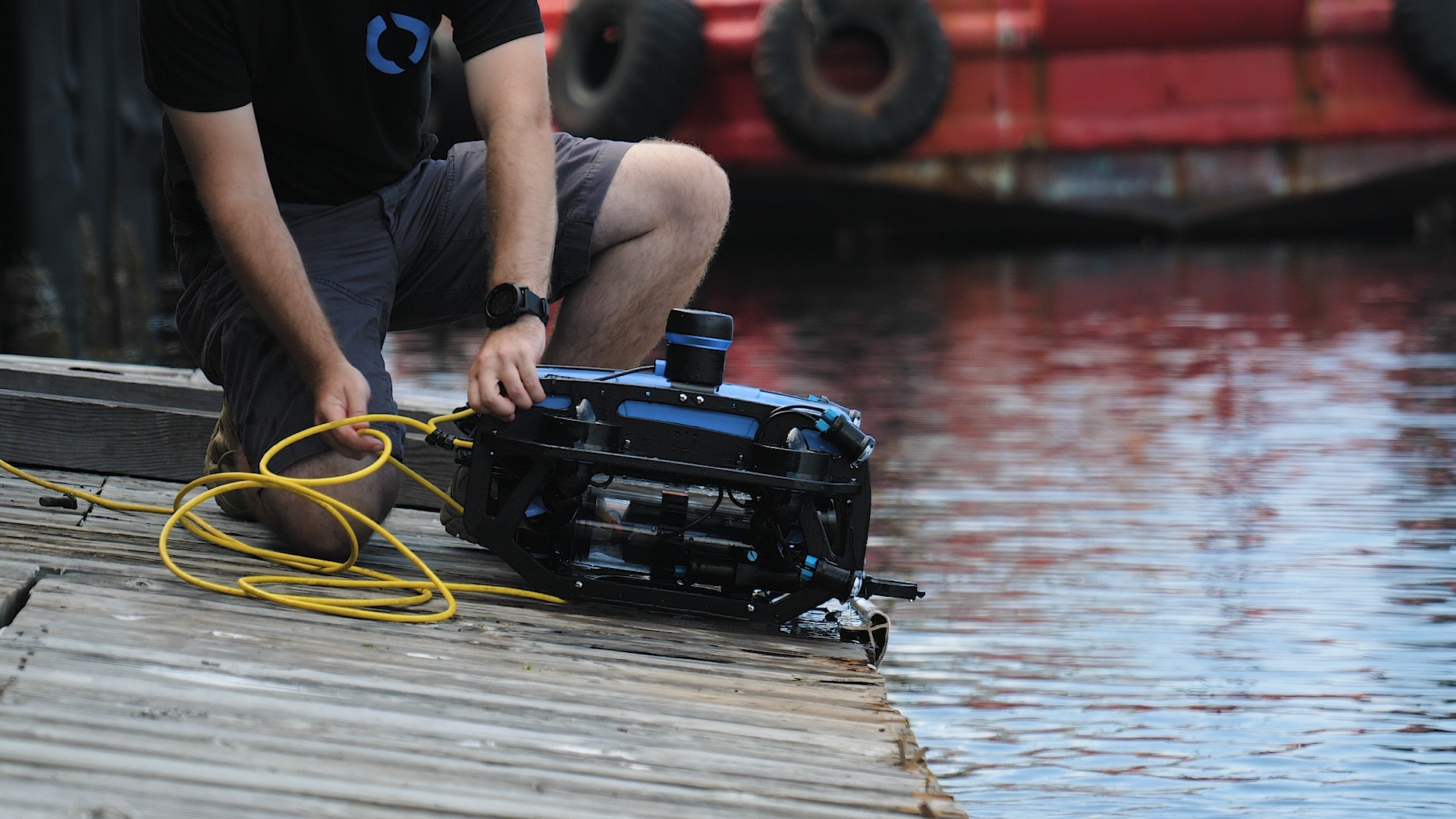 BlueROV2 with integrated Ping360.
Once you've got a solid grip on the basics, there are countless ways to expand your BlueROV2! We have a few core accessories:
The Newton Gripper allows you to manipulate and retrieve objects underwater
The Fathom Spool makes it easier to transport and use the tether cable
The Heavy Configuration Retrofit Kit adds two thrusters and more buoyancy for additional stability and payload carrying capacity
The Ping360 Scanning Sonar makes it easier to navigate in low visibility water conditions and locate underwater objects
Check out our community forums to learn about more integrations!

If you're looking to customize your ROV even further and add additional sensors, we recommend the following resources:
BlueOS.com has the documentation and developer guide for BlueOS and ArduSub, the software that controls the ROV.
The BlueROV2 section of our forums have many users who have made significant modifications and can provide guidance and ideas.
Our BlueROV2 Payload Skid product provides additional room on the ROV.