TerraStar-X Correction Service
RTK From the Sky™
Extreme speed. Exact accuracy. Extraordinary Reliability
Description
TerraStar-X enables RTK From the Sky™ using corrections delivered via L-band satellite to ensure maximum uptime without the additional investment of base station infrastructure or cellular plans. Convergence to 2 cm accuracy is achieved in less than 60 seconds and TerraStar-X service operates seamlessly with TerraStar-C PRO to ensure continuous centimetre-level accuracy for customers operating on the edges of the coverage area.
TerraStar-X region: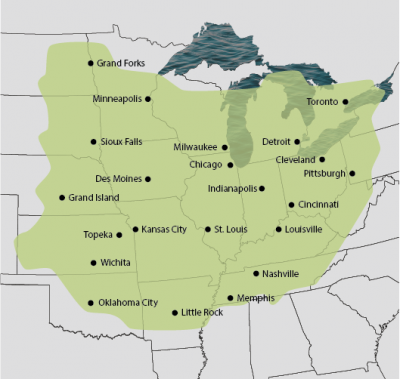 Benefits
Maximum coverage, performance and uptime without the logistics and equipment investment of an RTK network
2.5 cm 95% Horizontal accuracy
2 cm (sub-inch) pass to pass accuracy for agriculture applications
Converges in under 1 minute, significantly reducing wait time
Provides indefinite RTK ASSIST PRO solution for applications where traditional RTK is still required
Seamless operation outside of the TerraStar-X region backed by our TerraStar-C PRO global solution
Do you have questions about this product?
Questions about price, availability, and/or retailers
Questions about technical specifications and usage
Questions about suitability for your project or application
Specifications
General

OEM7 Series, SMART7 and more

Real Time Correction Service
Requirements
Corrections base
Technical specifications

Horizontal accurcacy (RMSE) {cm}

Vertical accuracy (RMSE) {cm}
Miscellaneous
Documents
Brochure
0019157969e7b01439141?authid=PTcElDItF6Ai