Effortless Precision and Unmatched Power: Unveiling the Mars Pro GNSS Receiver
Shanghai, China - August 30, 2023 - ComNav Technology Ltd.(ComNav) has introduced the Mars Pro Laser RTK. This product marks the third addition to the Universe Series GNSS Receiver, following our Venus Laser RTK and Mars Laser RTK. The Mars Pro boasts enhanced performance and an accompanying OLED screen. This cutting-edge GNSS receiver marries the latest advancements in GNSS, IMU, and laser technologies, heralding a new era of precision, efficiency, and excellence in land surveying, GIS, construction.
At the core of Mars Pro's innovation lie following defining features:
1. Precision in Challenging Environments
In challenging landscapes such as hard-to-reach, signal-obstructed, and hazardous areas, Mars Pro's ingenuity shines. In places like garages, where conventional GNSS receivers might struggle, because it cannot be fixed. All you need to do is switch the Mars Pro to laser mode with a simple click on the data collector. This allows you to effortlessly carry out measurements by easily selecting a signal-friendly spot within a 10-meter radius. And with its millimeter-level laser distance meter integrated on its rear, the Mars Pro facilitates the utilization of the laser mode in scenarios involving surveying and stakeout. This feature streamlines tasks, providing an unmatched level of stability and precision, even when operating under the most challenging conditions.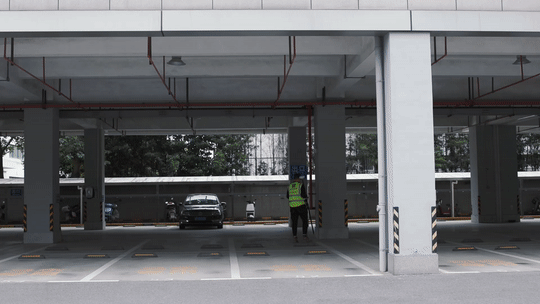 Unfixed Situation
When in laser mode, you also mitigate the risks associated with measurements in perilous settings. For instance, when measuring bridge piers from the opposite side of a riverbank, employing the Mars Pro's laser mode permits completion of the task from a safe position along the shore, eliminating numerous complexities.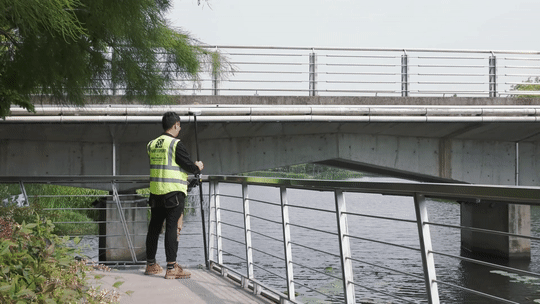 Dangerous Situation
Furthermore, when faced with hard-to-reach scenarios, the laser mode becomes even more adept. Consider situations like measuring tricky wall corners or roof, road surfaces separated by fences, or pipelines in the middle of a river. The Mars Pro's laser functionality effortlessly reaches these points, enabling efficient measurements.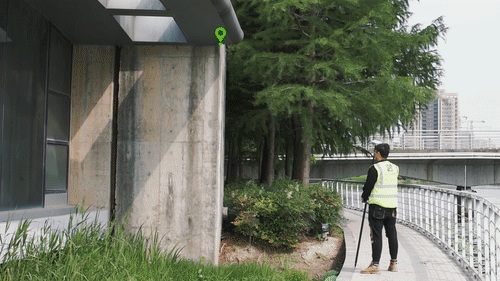 Unreachable Situation
Moreover, the integrated IMU sensor offers up to 60° tilt compensation. And it remains functional even when operating in laser mode, allowing for uncompromised efficiency and accuracy.
2. Unrivaled Full-Constellation Capability
Mars Pro's capabilities go beyond its convenient laser mode. Equipped with the latest K8 platform, it boasts unparalleled full-constellation support, offering an impressive 1668 tracking channels and over 60 satellite tracking capabilities across all existed and planned constellations - GPS, GLONASS, Galileo, BDS, QZSS and IRNSS. This optimization enhances signal acquisition and guarantees precision results. Furthermore, Mars Pro offers support for PPP service, enabling rapid fixing within seconds and substantially enhancing overall productivity.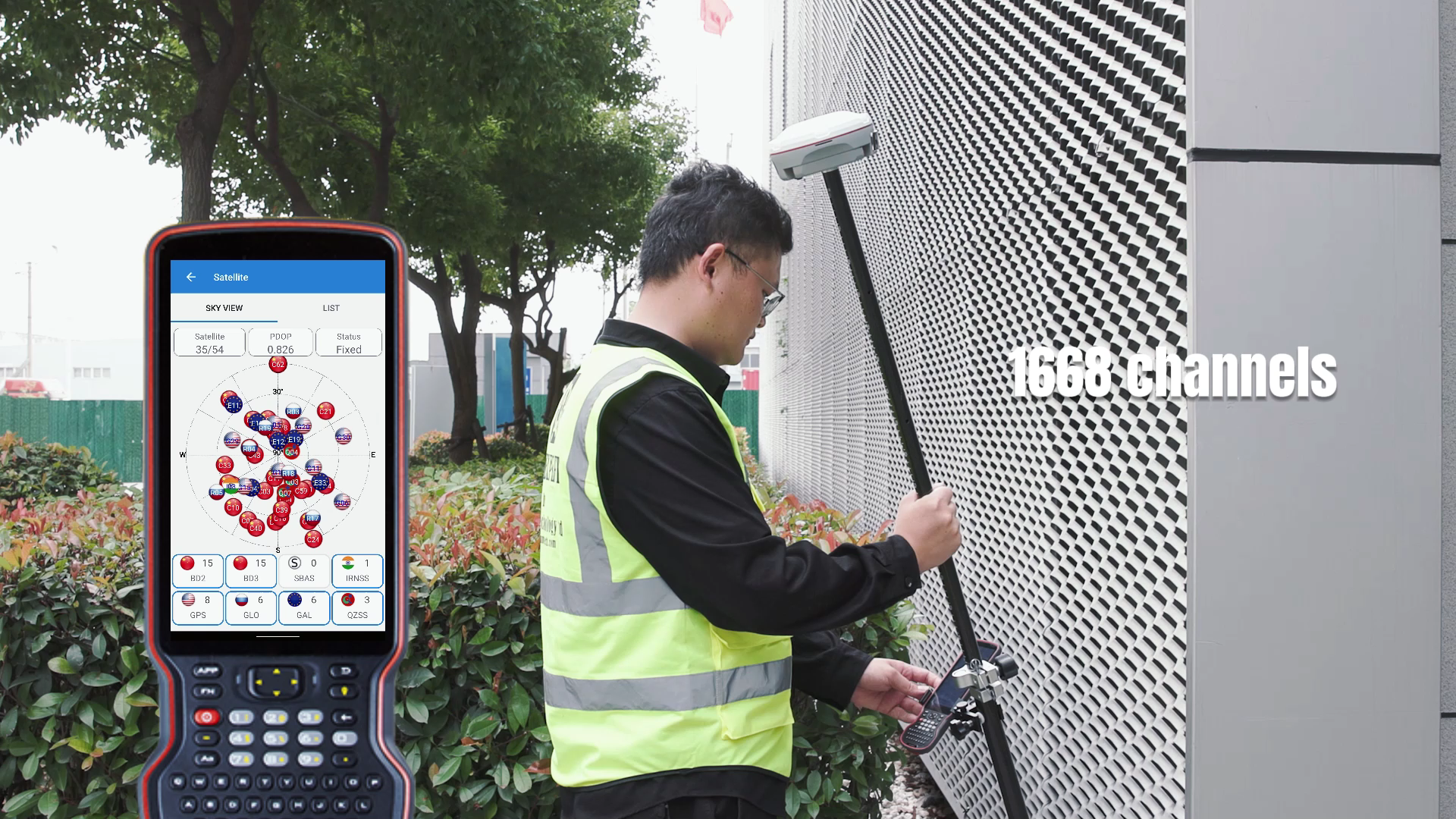 3. Enhanced Control with OLED Color Screen
Mars Pro's dynamic OLED color screen is sunlight readable and easy-to-view. It offers real-time visualization of essential data - satellite count, fixed state, on-off state, power, and more. This interactive display enhances surveyors' operational control, delivering a high-end user experience.
4. Strong Compatibility for Seamless Connectivity
The Mars Pro supports communication via WIFI, 4G and Bluetooth. These functionalities broaden the spectrum of data exchange and interaction, thereby enriching the overall operational efficiency.
Mars Pro can transition seamlessly between roles as a rover and a base, further amplifying its flexibility and multifunctionality across diverse applications. It is compatible with mainstream brands and multiple protocols, such as Transparent, TT450S, SATEL, Trimtakl3, CHC and South. When it comes with SinoGNSS receivers, the Mars Pro can seamlessly collaborate with T series.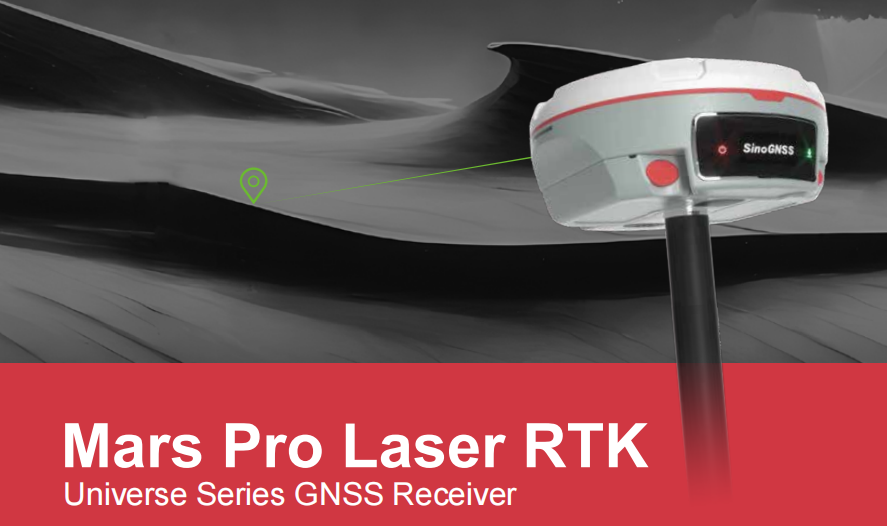 Mars Pro Laser RTK is more than just a receiver; it's a beacon of innovation that propels GNSS receivers into the future. With its advanced GNSS, IMU, and laser technologies, it redefines precision, fosters compatibility, and expands surveying and stake-out possibilities.
Discover the transformative impact and limitless possibilities of the Mars Laser RTK Pro GNSS Receiver. Engage in a heightened realm of precision, efficiency, and ingenious applications. Learn more by visiting our official website at https://www.comnavtech.com/Marspro.html
About ComNav Technology
ComNav Technology develops and manufactures GNSS OEM boards and receivers for high precision positioning demanded applications. Its technology already been used in a wide range of applications such as surveying, construction, machine control, agriculture, intelligent transportation, precise timing, deformation monitoring, unmanned system. With a team dedicated for the GNSS technology, ComNav Technology is trying its best to supply reliable and competitive products to worldwide customers. ComNav Technology has been listed on the Shanghai Stock Exchange (Science and Technology Board), securities :ComNav Technology (Compass Navigation), Stock code: 688592.
About SinoGNSS®
SinoGNSS® is the official trademark of ComNav Technology Ltd., registered in People's Republic of China, EU, USA and Canada. All other trademarks are the property of their respective owners.
​
Do you have questions about this product news?
Get in touch with ComNav Technology, and they would be happy to answer any questions you have about pricing, suitability, availability, specs, etc.