From April 9 to 11, 2019, the most influential event in the Oceanographic industry, the Ocean Business, was held in Southampton, England. OceanAlpha united with Kongsberg Marine to present a product demonstration of an M3 sonar working on a ME120 unmanned surface vessel (USV) which had brought more attention and applause the event.
The demonstrations were held in the morning of April 10 and 11 at dockside 1. A simple oral introduction was given by Kongsberg's engineer and OceanAlpha's sales director.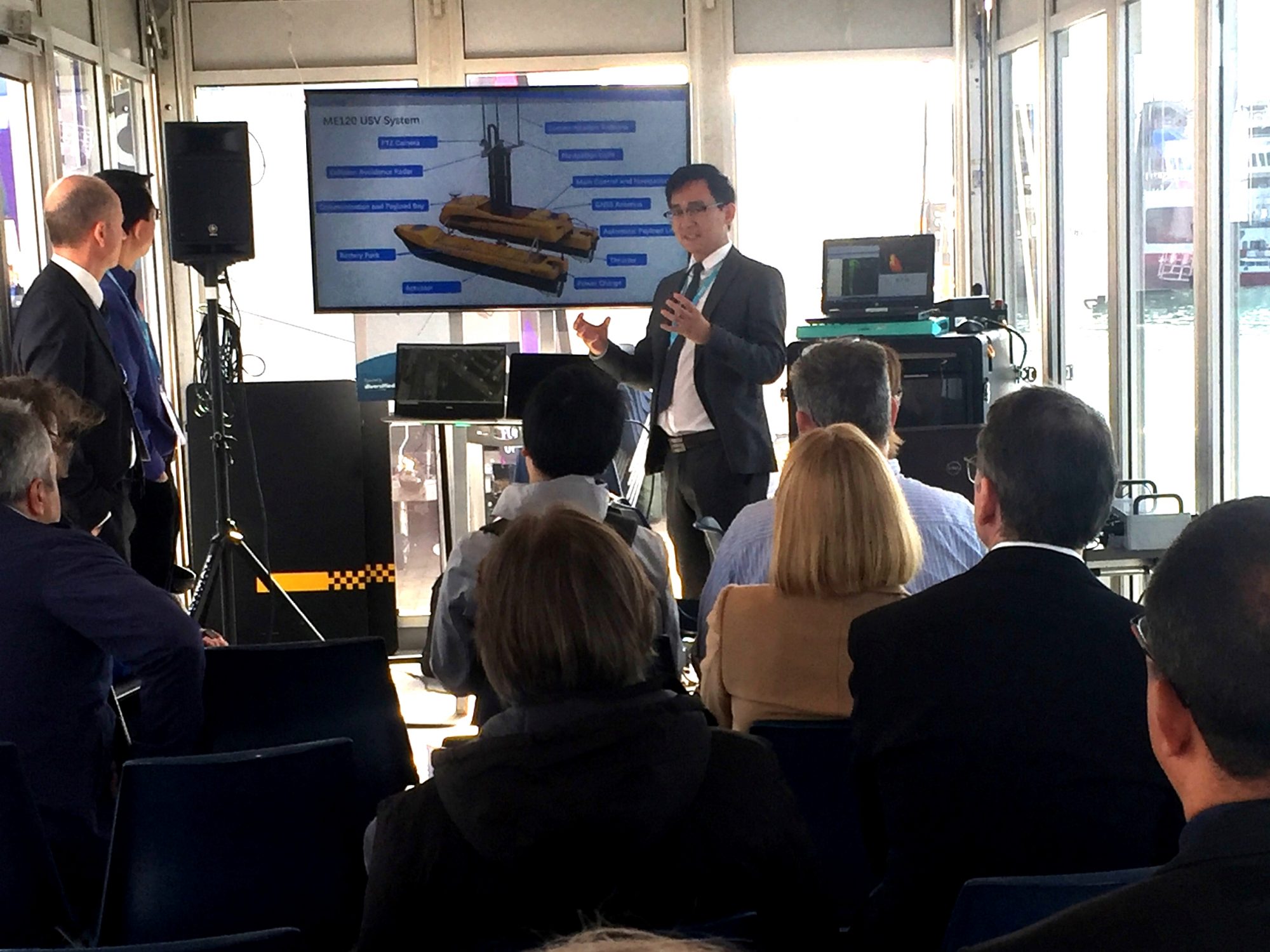 The demo starred with two heroes, the OceanAlpha quick-assembly ME120 USV and the Kongsberg M3 sonar portable hydrographic system(PHS). Carrying the M3 sonar PHS, the ME120 USV navigated precisely with the planned survey line, assisting the M3 sonar to collect and generate beautiful datasets.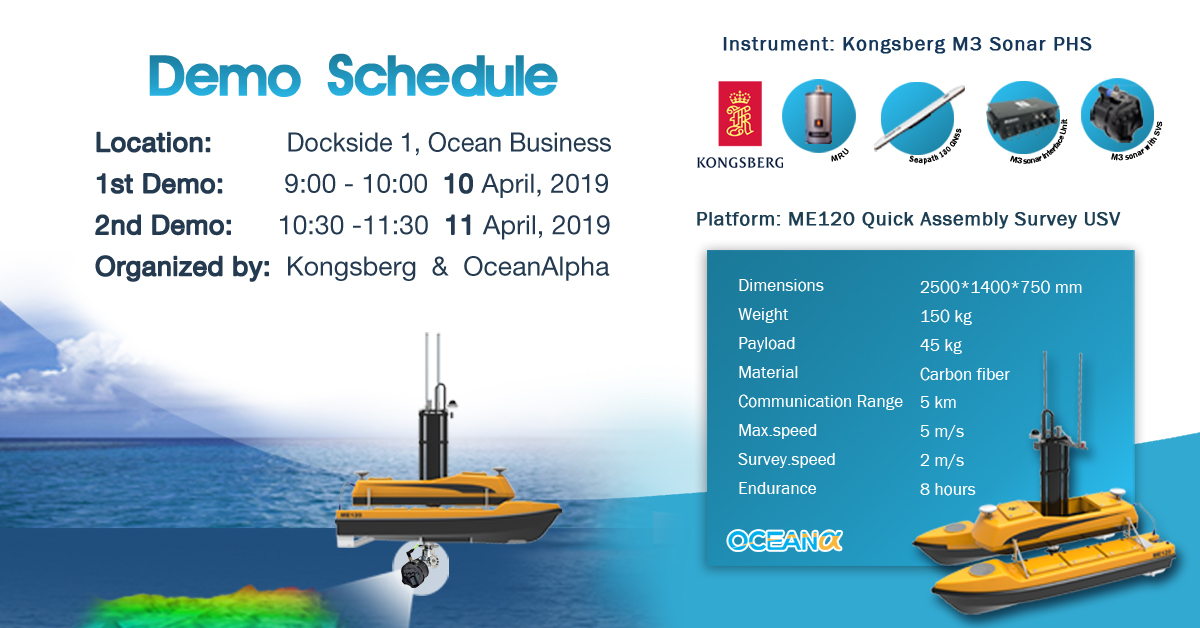 The 2.5-meter long USV was developed with the purpose of carrying smaller size multibeam sonar like the M3, and this had ensured the seamless integration of the two products at the first stage.
Demonstrations on both days were of great success, which had show the highly developed and the promising future of the unmanned working mode in hydrographic surveying.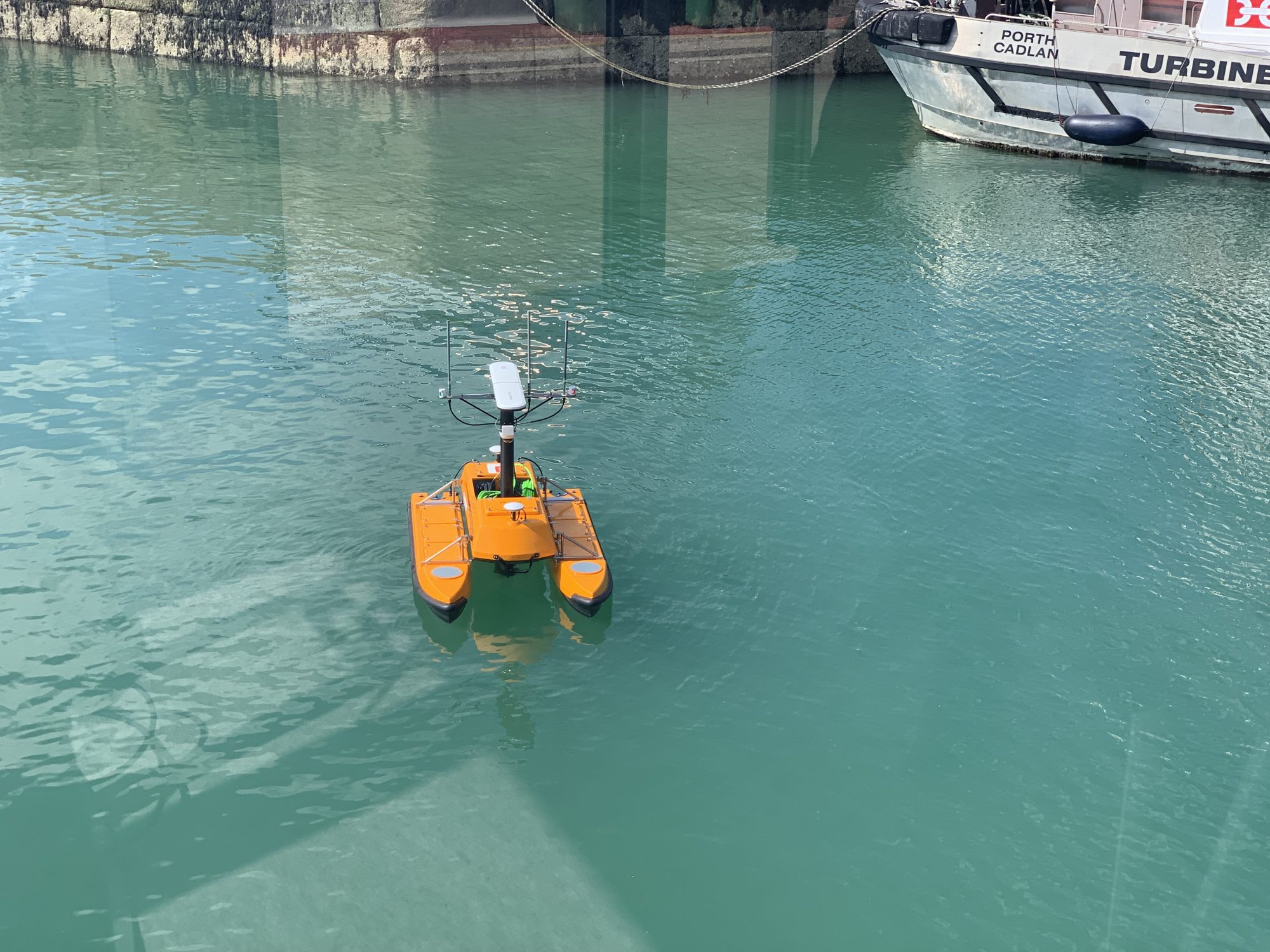 In a traditional surveying routine, tasks are usually carried out by surveyors hand-holding the acoustic equipment or mounting the equipment to a boat while requiring surveyors to stay on the boat the whole course which can usually last for weeks and even months. Safety of the surveyors, the accuracy of data, the efficiency of work and the cost of boat renting and salary are the major disadvantages to be solved.
When it comes to multibeam sonar surveying, the sophisticated equipment poses an even higher demand to the platform instability, noise control, and navigation accuracy.
With a detachable catamaran design, a jet-pump propeller, and autonomous collision avoidance system, the 120 USV can sail stably and smoothly in a complex environment. There's a dedicate cabin and automatic flipper to mount the instrument, providing a better protection to the sensors and the instrument itself. To guarantee a high-quality data output, the USV can sail in high accordance with the survey line with a deviation of fewer than 0.1 m, allowing the acoustic equipment to scan the seafloor evenly. Basing on these advantages, the ME120 USV is doubtless one of the ideal platforms to carry smaller size multibeam sonar like M3.
The USV is also compatible with side scan sonar, ADCP, 3D LiDAR scanner, single beam echo sounder, forward looking sonar and water quality sonde.
For more information about ME120, please visit: https://www.oceanalpha.com/product-item/me120/